February 2015 archive
ALL WELCOME.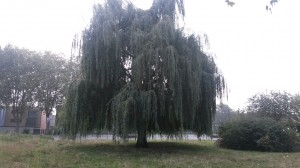 Meet at 11am under the larger Willow Tree by the tennis courts for walk round to discuss proposed locations for Willow Garden, willow sculptures, memorial fruit trees and bench for Betty, possible orchard, and training/climbing structure. Also thinking about facilities that  will attract girls and young women, as much of the current sports activities in the park mostly only attract young men.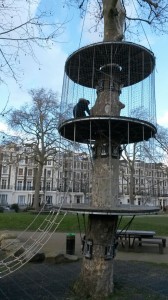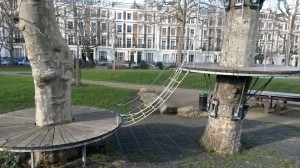 See pics here  for tree house possibility which has been popular with young women elsewhere.  Plus: view progress of the pavilion demolition site and new path now that the hoardings have been partly removed,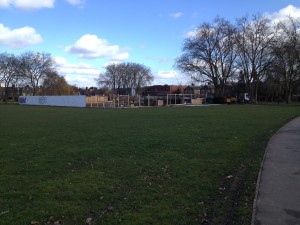 Plus:  news about the outdoor gym location (work starts next month), staffing our stall at Chestnuts market on 15 March, proposal for Big Lunch event in June, supporting Dan's fundraising Marathon run for us in May and news from campaigns against Haringey Council cuts and the Chestnuts People campaign for the Chestnuts Community Centre.  And of course hearing everyone's views on the park and how it needs to be further improved. Once we've completed the walkabout we will move to the upstairs meeting room in Chestnuts Community Centre to complete our discussions, so if you arrive after 11am and can't find us, we'll be in the Centre.  
Stop Press as of 24.04.15. Dan's had to pull out of the London Marathon this year due to a knee injury. He's trying to negotiate a place in next year's Marathon, which is usually allowed in circumstances of injury. We are contacting all existing donors as soon as possible to offer them a refund if they'd like, or to ask if they'd like to donate anyway, or hold over the donation to the following year. If you haven't heard from us, please email us friendsofchestnutspark@hotmail.co.uk and we'll get back to you. We're all just so sorry for Dan who's been training so hard for months!
Friends of Chestnuts Park member and landscape gardener Dan Shea is running the London Marathon in May for Friends of Chestnuts Park to raise money for a new Friends Willow Garden, orchard and wildlife area. See below for pics of the Willow Tree at present and an early design for the new Friends Willow Garden
Any donation large or small will really help improve the park and take us a big step closer to achieving a community wildlife garden area around the Willow Tree. This will involve and benefit all ages and provide the park with an abundance of flowers and biodiversity. See below for pics of Dan at work, including two of the flagpole bed in Chestnuts Park. Haringey Council has offered to match whatever he raises, so this doubles the amount you donate. To sponsor Dan please click on the Donate button and send us a message.
Nearly there! The demolition of the derelict pavilion was completed last week. All that remains is to clear the site, then landscape, lay the new diagonal path, remove the hoardings and sow the grass seed. We're all looking forwards to the new open views across the park. Watch this space! Here are some pics from the demolition process. This demolition and creation of new open space has been part of our aspirations for many years, and it's exciting to get there. Fundraising is continuing for a new Willow Garden and outdoor gym, to be installed near the former pavilion site.