Originally the land housed a watercress farm – a crop which thrives in wet conditions. The stream which used to run through the park is now housed in an underground culvert. In around 1850 Chestnuts House was built for Mr Haynes, a timber merchant. At that time St Ann's Road was still a rural lane where City merchants were beginning to build houses.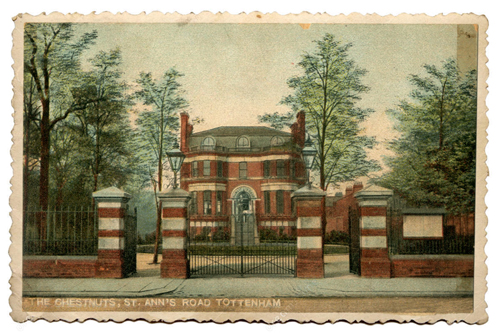 The OS Map of 1894-6 shows the house with a semi circular carriage drive, which remains today along with the distinctive white and red brick gate posts, which remain in place at each of the main entrances to the park. Behind the house were gardens with a fountain. The boundary of the site to the west follows the line of an old footpath, Blackboy Lane. In March 1898 the house and grounds of 13 acres adjacent to Cornwall and St Ann's Roads were purchased for £7,760 by Tottenham Urban District Council following a poll of ratepayers to decide whether the site should be retained for public use.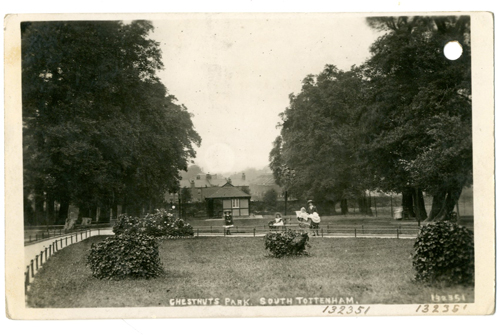 This was overwhelmingly approved by 911 votes and, with some additional land purchased, it was laid out as Chestnuts Recreation Ground.  It was intended as a commemoration of Queen Victoria's Diamond Jubilee and opened to the public in November 1900. The area of ornamental gardens was built over by 1913. At one time the Recreation Ground boasted a fine circular ornamental fountain on a mound, surrounded by planting, and various areas of ornamental planting.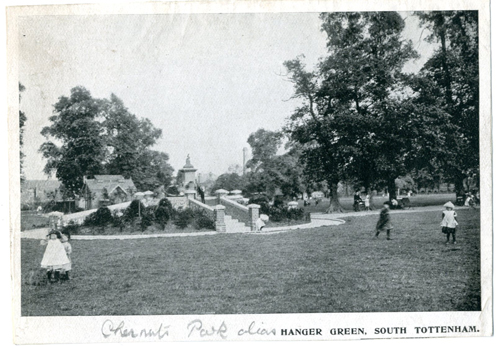 Avenues of plane trees remain on the park's western, southern and northern boundaries. Chestnuts House was initially used as a public reading room and museum, and it was the public library until St Ann's Branch Library was built in 1938. After this it became a health clinic but was demolished in the 1980s to make way for the new Chestnuts Arts and Community Centre. A new playground was also built. During the 1980s and 1990s the Recreation Ground became very neglected and run down. In the year 2000 the Friends of Chestnuts Park group was formed, and improvements started on all aspects of the park. See "About Friends of Chestnuts Park" for more information.